Chances are, you've already been to Paris. You've ambled along the banks of the Seine. You've climbed the Eiffel Tower and the Sacré Coeur. You've done your best hunchback impression outside Notre Dame Cathedral. You've been to the Louvre, made a beeline for the Mona Lisa and then walked straight out again. There's no shame in that.
But here at SmoothRed, we want to show you a whole new side to Paris. Because as well as all those classic sights, there's plenty more to the city of lights, including chances to taste some of the finest wines and cuisine in the world.
Read More
Wine and dine yourself in Paris
While Paris is crammed with amazing eating experiences, it's also home to plenty of places that are happy to serve up sub-par slop to unsuspecting tourists. But fear not! Stick with SmoothRed and you're sure to come out on top.
Your best bet for a great meal is to avoid the tourist areas and seek out some of the local eateries.
Neighbourhoods to check out include Canal St Martin with its arched footbridges, boho bistros and soupçon of urban grit; Rue Montorgueil with its bustling market stalls, exquisite patisseries and hip bars; and the swanky, classy Latin Quarter, home to the famous Shakespeare and Company bookshop and the endless cheese shops, bakeries and wine cellars of Rue Mouffetard.
Speaking of wine, you might think that somewhere as urban as Paris would struggle to support many vineyards. And, well, you'd be right. BUT we're delighted to report that the city has recently seen something of a revival in wine growing. More and more local growers are sprouting up and harvests are improving every year. So watch this space to see how things develop.
In the meantime, you'll be pleased to hear that the streets of Paris are awash with the finest wines from across the rest of France (not literally though). And on your SmoothRed trip you'll get the chance to try a selection of them in a 17th century wine cellar.
Get in touch to discuss your perfect Paris wine tour
We've got a range of Paris wine tasting breaks and self-drive tours available. Or ask about a trip tailored to your tastes.
Call us on 020 8877 4940 or email sales@smoothred.co.uk and we'll be more than happy to help
Our Latest Paris Wine Tours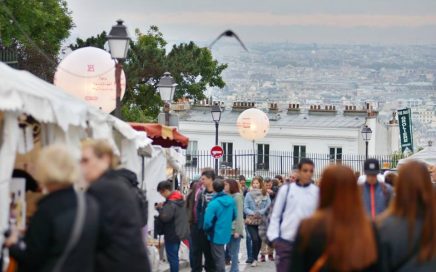 3 days from £669pp
3 days from £329pp
6 days from £2,984pp